Watch the Award-Winning Replay Presentation
Replay: 2015 Money20/20's Grand Prize Winner
In October 2015, I designed Replay, the first Apple TV shopping app allowing consumers to browse products and enjoy a seamless shopping experience while watching movies. As Design Lead, I researched the Apple TV platform, created wireframes/detailed mockups, and produced assets for development. In the end, Team Replay beat 153 teams to win MasterCard's Sponsor Prize, First Place in the Money 20/20 Hackathon, and the Grand Prize for the Hackathon overall.
Role: Lead Designer
Timeline: 24 hours
Platform: Apple TV
Tools: Adobe Photoshop, Adobe Illustrator
Team members: 5
About the 2015 Money20/20 Hackathon
In 2015, 462 developers, designers, and entrepreneurs from over 15 countries came together in Las Vegas for the Money20/20 Hackathon, the largest FinTech Hackathon in the world.
In 24 hours, participants built innovative apps using APIs, SDKs, and other tools from the world's leading payments and financial services companies, including MasterCard, PayPal, IBM, Visa, and many others.
Create a VIP shopping experience by leveraging the power of connected devices and visualization.
Before the hackathon, I recruited 3 engineers and an entrepreneur from my network. We discussed potential ideas and joined a hackathon webinar to get an overview of the challenges.
My team brainstormed ideas and unanimously decided to create an Apple TV shopping experience. We discussed major features, potential users, and other requirements. With this concept in mind, I designed user flows for consumers, merchants, and content creators.
Focusing on the consumer's journey, I sketched wireframes showing each step a consumer goes through to view content and discover relevant products. When a consumer views video content, s/he is able to browse through items relevant to the scene, and can purchase items effortlessly.
I sketched additional logo possibilities for the Replay app. The logo design options referenced media and video, shopping, and technology.
Finally, I designed Apple TV comps and produced assets that were integrated into the app.
Watch the Award-Winning Replay Presentation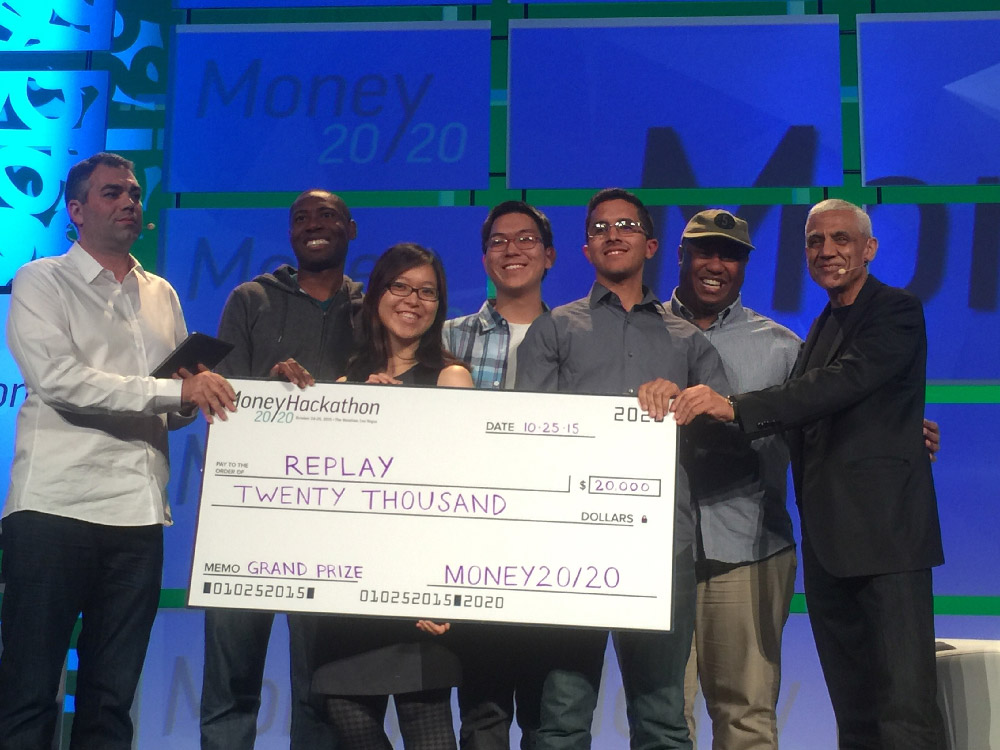 In 2016, my teammates continued to pursue this project and renamed it tapReplay. The project is currently in development.